Local surgeon travels to Chicago
Local surgeon travels to chicago for continued educational development with shoulder & elbow updates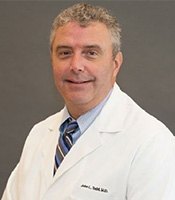 DAPHNE, Ala. (August 2, 2016) – Dr. John Todd, local orthopedic surgeon in Baldwin County, AL-based practice plans to attend a course on current techniques and controversies regarding shoulder and elbow treatments in September.
The American Shoulder and Elbow Surgeons (ASES) and the Arthroscopy Association of North America (AANA) host a Shoulder and Elbow Course every other year inviting physicians from around the country to attend for three days of in-depth sessions, round table discussions, demonstrations, and debates on the latest advances in shoulder and elbow surgery and rehabilitation.
The course allows healthcare professionals to update their knowledge regarding state-of-the-art advances in open shoulder, elbow and arthroscopic surgical treatment, evaluate the current evidence base for diagnosis and clinical management of joint disorders and discuss the optimal rehabilitation for complex and routine repairs. The objective is to always be improving in arthroscopic knowledge, competence, performance, and patient outcomes.
Dr. John Todd is the medical director of The Shoulder Center, which is the latest specialty care program to be offered at Baldwin Bone and Joint, and attends this professional course regularly.
"I attend this course with ASES and AANA so that I can stay on top of the latest advancements in arthroscopic care," Todd said. "My number one focus is providing the best care to my patients and advancing my knowledge in this field helps me to do that.
About Dr. John L. Todd
Dr. John Todd, Medical Director of The Shoulder Center at Baldwin Bone & Joint, P.C., is a board-certified orthopedic surgeon who is fellowship trained in both shoulder reconstruction and sports medicine. Dr. Todd has been in practice for more than 20 years, and his primary clinical focus is
non-operative and operative care of the shoulder. He has dedicated his career to helping patients with both chronic degenerative problems and injuries of the shoulder as part of Baldwin Bone & Joint – a group of fellowship-trained orthopedic specialists. The Shoulder Center has office locations in Daphne and Orange Beach, AL. For more information, call 251.625.2663 or visit theshouldercenter.net.
About Arthroscopy Association of North America
The Arthroscopy Association of North America (AANA) is a provider organization accredited by the Accreditation Council for Continuing Medical Education (ACCME). The organization exists to promote, encourage, support and foster the development of continuing medical education activities that
are free of commercial bias and designed to disseminate knowledge, competence, performance, and improve patient outcomes of those undergoing arthroscopic surgery and to improve the diagnosis and treatment of diseases and injuries to the musculo-skeletal system.
About American Shoulder and Elbow Surgeons
The American Shoulder and Elbow Surgeons (ASES) is a society made up of leading national and international Orthopaedic surgeons who specialize in surgery of the shoulder and elbow. Through continuing medical education, the ASES Annual Meetings serve as a forum where persons involved in this field of medicine can meet, discuss new ideas and present scientific material. The Society is an educational body responsible for development of scientific programs, for organization of current knowledge, for standardization of nomenclature and for publication of scientific materials. Through educational programs and by encouraging research, the organization seeks to foster and advance the science and practice of shoulder and elbow care.
You will need the Adobe Reader to view and print these documents.